Chamonix Mont-Blanc Basic

Classic

GENEVA - Chamonix Mont-Blanc

KTG101




88.61 €

95.47 $

84 CHF

08:30am

05h30

Daily




One of the most famous villages at the foot of the majestic Mont-Blanc.

--- Chamonix Mont-Blanc Classic

--- Chamonix & City tour Geneva

GENEVA: Chamonix-Mont-Blanc & Annecy

KTG171




173.00 €

186.39 $

164 CHF

08:30am

10h30

June to August




Discover the Alpine and charming Village of Chamonix, at the feet of the highest mountain of Europe. In the Afternoon enjoy Annecy, the city called "the Venise of the Alps"

GENEVA: Chamonix-Mont-Blanc & Yvoire

KTG181




199.38 €

214.80 $

189 CHF

08:30am

10h30

July & August




Discover the famous resort of Chamonix and visit the medieval village of Yvoire

GENEVA: Chamonix-Mont-Blanc & Aiguille du Midi + Yvoire & Boat cruise

KTG182




301.70 €

325.04 $

286 CHF

8:00 or Geneva Airport hotel 8:30 Bus Station (Place Dorcière)

10h30

Daily - July & August




Discover Chamonix and it's famous cable car, then wonder in the medieval village of Yvoire before coming back to Geneva by boat

--- Chamonix & Paragliding

GENEVA: Chamonix-Mont-Blanc - Aiguille du Midi - Paraglide Aiguille du Midi cable car will be closed due to maintenance from the 05.11.2023 to 14.12.2023 (both included)

KTG194




341.79 €

368.23 $

324 CHF

8:30

10h00

Daily




Discover Chamonix, the Aiguille du midi cable car and try a paragliding flight surrounded by the Alps peaks

Special Winter

GENEVA: Chamonix Mont-Blanc & Aiguille du Midi - Ski

KTG112




234.19 €

252.30 $

222 CHF

8:30am

10h00

Daily




Half day skiing in Chamonix Mont-Blanc and ride by cable car to the Aiguille du Midi!

Classic

Other

GENEVA: Chamonix Mont-Blanc & Mer de Glace

KTG106




133.97 €

144.34 $

127 CHF

08:30 am, 10:30 am

08h30

Daily




Visit the charming ski resort of Chamonix and ride the cogwheel mountain train Mer de Glace

Chamonix Mont-Blanc Half-Day by_SWISSTOURS 7h30-10h30-12h30

Classic

LAUSANNE: Glacier 3000 - Montreux

KTL321




85.45 €

92.06 $

81 CHF

9h00

08h00

Mai to September




Explore the Diablerets villagesat the foot of the Glacier 3000 and visit Montreux

Chaplin - Montreux - Chillon

LAUSANNE: Chaplin - Montreux - Chillon Gold

KTL301




180.39 €

194.34 $

171 CHF

09h00

05h30

June to September




Discover Chaplin's world, the swiss riviera on a Belle Epoque cruise and Chillon

LAUSANNE: Chaplin - Montreux - Chillon

KTL302




146.63 €

157.97 $

139 CHF

09h00, 10h15

05h30

March to December




Discover wonderful views of Switzerland, the Alps Mountains and Geneva lake.

LAUSANNE: Gruyères Gold Tour

KTL351




216.25 €

232.98 $

205 CHF

09h00

08h00

May to September




Chocolate smell, breathtaking landscapes of Gruyères, authentic Alpine cheese making! Then have a ride aboard the famous Golden Express train.

LAUSANNE : Gruyères - Medieval Village & Chocolate

KTL352




138.19 €

148.88 $

131 CHF

9:00am

08h00

May to October




Visit Switzerland through its countryside and typical landscape.

Lausanne: Chaplin - Gruyères - Yourte experience - GOLD

KTL401




588.63 €

634.17 $

558 CHF

09h30

10h00

May to October




Yurt experience, Chocolate smell, Chapelin's world, breathtaking landscapes of Gruyères, authentic Alpine cheese making and Golden panoramic train !

--- Interlaken Paragliding

--- Interlaken with Geneva transfer

Zurich - Interlaken - Geneva

KTZG361




142.41 €

153.43 $

135 CHF

Enjoy a day trip to discover Interlaken & the Swiss Alps

KTZG362




269.00 €

289.81 $

255 CHF

An unforgettable journey through the Alps and walk in the footsteps of James Bond at the top of Schilthorn!

Transfers door to door

Multi-day From Zurich -interlaken - Geneva - Chamonix - Annecy - Gruyère -Montreux - Chaplin world's - Glacier 3000

KTZPXD




379.76 €

409.14 $

360 CHF

Mayt so September




Prise en charge à votre hôtel, direction Interlaken, vous voyagerez en petit groupe avec un mini-bus de luxe. Vous pourrez choisir d'aller au sommet du Schilthorne ou de la Jungfrau, puis direction Genève. Vous serrez transférer à votre hôtel une hôtesse sera à votre écoute et vous aidera à planifier le ou les jours suivants avec les multiples choix.

Multi-day From Zurich -interlaken - Geneva - Chamonix - Annecy - Gruyère -Montreux - Chaplin world's - Glacier 3000 with Hôtel

KTZPXDH




643.49 €

693.27 $

610 CHF

May to September




Multi-day From Zurich -interlaken - Geneva - Chamonix - Annecy - Gruyère -Montreux - Chaplin world's - Glacier 3000 with Hôtel

Riviera Line to Glacier 3000

Riviera-Col du Pillon

SBG320-1




104.44 €

112.51 $

99 CHF

8h15

10h00

Included: -FreeTime in Col du Pillon -FreeTime in Montreux

Classic

Chamonix Village

SB5300-1




71.73 €

77.28 $

68 CHF

10:30 am

Every day all year around




Included: -FreeTime in Chamonix

Chamonix + cable car

SB5300-2




170.89 €

184.11 $

162 CHF

10:30am

07h30

Every day all year around




Included: -Cable car Aiguille du Midi -FreeTime in Chamonix

Riviera Line to Glacier 3000

Riviera Line to Glacier 3000

PRIVAT EXCURSION

EXCLISIVE TOURS

Exclusive Tours Chamonix-Mont-Blanc: Aiguille du Midi + Mer de Glace

KEG104




1219.46 €

1313.79 $

1156 CHF

08h30

On request




Visit the roof of Europe, the majestic Mont-Blanc! A good trip? A Must see !

Exclusive Tours Chamonix-Mont-Blanc: Aiguille du Midi + Mer de Glace

KEG105




1369.26 €

1475.18 $

1298 CHF

08h30

On request




Visit the roof of Europe, the majestic Mont-Blanc! A good trip? A Must see !

Geneva <-> Chamonix (Regular line)

Geneva Airport <-> Geneva Center (Transfers Private)

Private Transfers

Geneva <-> Switzerland (Transfers Private)

Geneva <-> France (Transfers Private)

Geneva <-> Italy (Transfers Private)
Trip from Geneva to Glacier 3000 + Cable car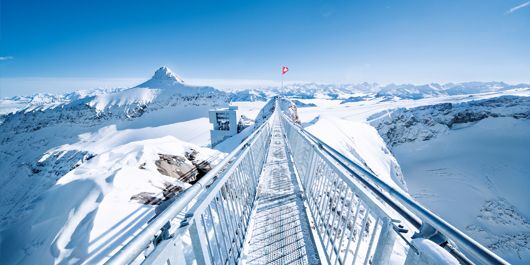 Add to cart
Discover the Swiss Alps! The permanent snow, panoramic view, walk on the glacier, enjoy the fun park and be brave crossing the peak walk!
Information
Description
Tour name
Riviera-Glacier 3000 with cable car
Product code
SBG320-2
Opening
Everyday from may to september
Time
08:15
Description
When you think about Switzerland don't you have in mind the image of a Swiss Chalet village slap in the lap of the Mountains? This is Les Diablerets: ''little devils'', located in the heart of the Alps Vaudoises. This village entirely made up of chalets, has great cachet and a penny to develop while preserving its heritage.
Just looking up you cannot miss the majestic Glacier, the top is at 3000 meters. Jump in the mountains with the Glacier 3000, dominate the snowy peaks and risk you on the only bridge in the world which connects 2 summits. Take advantage of the fun Park and the enjoyments of the snow in winter where sleds are waiting for you. In summer, let you tented by a descent in AlpineCoaster. The glacier offer 3000 multiple activities in an exceptional frame. Around 3pm go down and board the bus to Montreux and enjoy a FreeTime to feel the good vibes of this artistic city before returning to Geneva.

Duration of circuit
10h00
Departure
Bus Terminal, Place Dorcière
Return point
Bus Terminal, Place Dorcière
Children information
Infant from 0 to 3 years old, 15.-CHF
Child from 4 to 12 years old, Child's fare applicable
Included
- Bus trip from Geneva <-> Col du Pillon
- Cable car to Glacier 3000
- Free access to the PeakWalk, the fun park and the chairlift
- FreeTime in Montreux
Excluded
- Roaller Coaster
- Snowbus
Options
The Options Snowbus and Alpine Coaster can be buy there.

Glacier 3000 - High level experience






Print